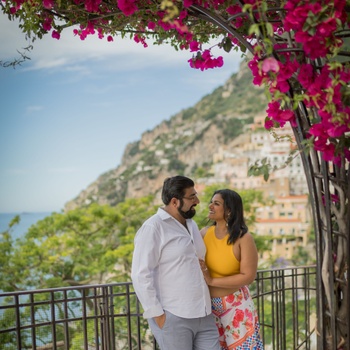 Varun and Meena met in January of 2017. Meena's friends had told Meena about Varun because they thought they would be a good fit. Varun then did the classic move, saw a picture of Meena with her friends and inquired. They went on their first date and immediately hit it off.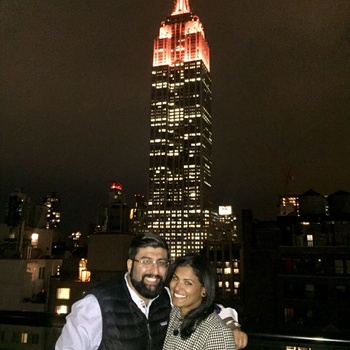 On one early spring night, Meena and Varun met up for a date at a rooftop restaurant called Spyglass. As they overlooked the beautiful Empire State Buidling, Varun first asked Meena to be his girlfriend to make things official.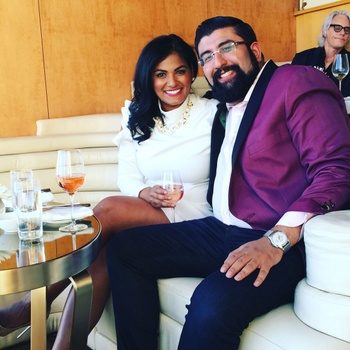 Varun and Meena quickly realized their mutual love for travel and exploring the world. Together they have visited India, Montreal, Caribbean, Europe, and are still counting their future travel spots. They are excited to add Aruba to the mix!

They spent their time also exploring different areas of New York City. Both of them love the energy, culture, and vibrancy of the city.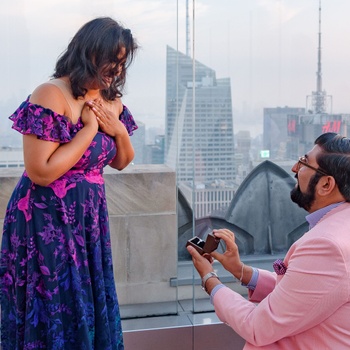 The Proposal




The date: June 1, 2018

The Setting: Beautiful New York summer evening, top of 30 Rockefeller Plaza - The Rainbow Room

Varun decided to ask Meena to marry him. He used the help of his future sister-in-law, Nina to give Meena a surprise proposal. 

Nina had told Meena that there was a national geographic event that she was invited to attend at the Rainbow Room - a New York City icon.  A few days before, Nina had said she had an extra ticket and that Varun should come along as well.  Excited for the event, Nina and Meena spent the day getting ready for the dinner. Varun met the sisters at the top of 30 Rockefeller center where the Rainbow Room is located. NIna excused herself to go to the restroom and Varun took Meena to the deck to see the beautiful NYC skyline at sunset. 

He took her to a private table and proposed on the spot. They were shortly joined by their parents and siblings for a champagne toast. Afterwards their extended families were waiting for them in a private room for a dinner. To top of the most perfect evening, all of Varun and Meena's friends arrived at the rainbow room for a final surprise!!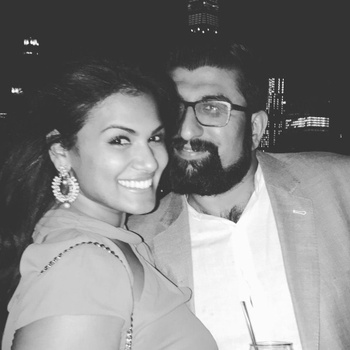 Meena and Varun are excited for you to join them in Sunny Aruba as they take the next big step together!